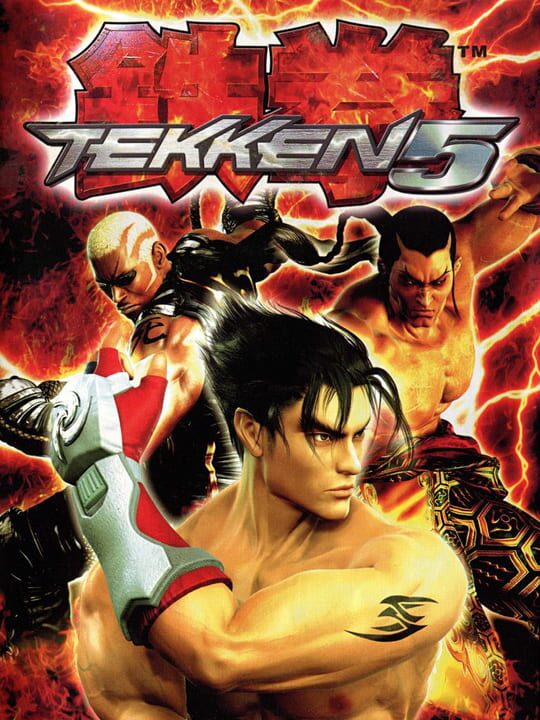 8
TOTAL RATING
VOTES: 123
Tekken 5 Free Download
01 Dec 2004
After the death of Heihachi Mishima, the fifth King of Iron Fist Tournament began. Tekken 5 lets you join this battle as one of many characters, including three fighters who are new to the Tekken series. This time, the environments feature destructible objects and dangerous obstacles. Customize your character with a variety of accessories, such as beanies, glasses, and costumes. Beat the game with each character to learn his or her story.
Plot Overview
After the conclusion of The King of Iron Fist Tournament 4, an intense battle between father and son, Kazuya and Jin, took place at Hon-Maru in the Mishima Zaibatsu headquarters. Jin emerged as the victor, and Heihachi turned his back on Kazuya and said. "What a pathetic wretch... You worthless coward!" The battle between Heihachi and Jin began. Jin defeated Heihachi. Filled with anger, his black wings spread, Just as Heihachi thought he was doomed, Jin regained control of himself. "Thank my mother, Jun Kazama." Jin said as he took flight. The sounds of battle gave way to silence as Heihachi lay spread out on the ground. The silence was soon interrupted by approaching aircraft. The roar of the aircraft increased and the sound of something being ejected was heard. A group of Jack-4s crashed through the ceiling. At first, Heihachi suspected that Kazuya was responsible for the intrusion but realized that Kazuya was just as bewildered by the sudden attack. "Why are you here?" tells Heihachi as the wave of Jack 4s approaches. Heihachi and Kazuya team up and battle waves of Jack 4s but reinforcements appear as fast as the Jacks are destroyed. Heihachi starts to lose his breath. Kazuya then betrays Heihachi, throwing him into the middle of the army of Jacks, and uses the opportunity to escape from Honmaru. Shortly after, Honmaru is devastated by a huge explosion and Heihachi goes flying, landing in a graveyard On an airplane close by, the battle is watched by a man dressed in black. He raises his hand to his ear and speaks into his radio. "Heihachi Mishima is dead..." At that moment, a Jack attacks from behind but it cut in half instantly as the man disappears. Hon-Maru is completely destroyed, a raging inferno in its place. A pile of debris was blown apart as something emerged from the earth, unseen. The next day, news of Heihachi Mishima's death spread rapidly across the globe. Most people believed that Heihachi's death would bring about the end of the Mishima Zaibatsu, but behind the scenes someone else had taken control, and business went on as usual. A month later, it was announced that the Mishima Zaibatsu will hold The King of Iron Fist Tournament 5.
Last updated: 28.01.2019
Downloaded: 153
Tekken 5 Free Download Download for PlayStation 2
You can join the game world now. All you have to do is download Tekken 5 Free Download from our website, it should not take more than a few moments and, most importantly, it's free. Follow the instructions on the screen after starting the installer. Good luck.
---
System Requirements game Tekken 5 Free Download
CPU: Intel Core i5 2.4 GHz
RAM: 4 GB RAM
Graphics Card: Graphic Card 512 MB GeForce 8400 GTS or better
Disk Space: 8 GB HDD
Internet
Game mode: single/multiplayer
---
How to Tekken 5 Free Download Download and install
Follow the instructions bellow – this is a very simple, fast and primarily free.
1. Click the button above "Download"
2. You start the installer game Need for Speed Carbon
3. Accept User License Agreement and choose path installation
4. The installer will download all necessary files.
5. During the download you need to activate your version of the game a special code – Download individual activation key
6. Enter the code in right place – will complete the download and install the game
7. PLAY!
Game gallery Tekken 5 Free Download Download